Our Orleans physiotherapists offer specialized services and treatments for pelvic floor conditions, as well as prenatal and postpartum care, with a focus on women's health.
---
The Importance of the Pelvic Floor
The pelvic floor sits under the uterus, bladder, and large intestine (bowel) and includes muscles, ligaments, nerves and connective tissue. It plays an important role in the body by providing support for the bladder, genitals, uterus and anus, and help with urine and bowel control. The pelvic floor also contains the muscles that contract during orgasm.
When the pelvic floor muscles become weakened, urine leakage and reduced control over the bowels can occur. This is why pelvic floor muscle training is so important, in particular for women after childbirth.
Although the pelvic floor plays such an important role in our health, many women (and men!) feel uncomfortable admitting that they are suffering from pelvic floor dysfunction, and so it often goes untreated.
This silence on the subject can result in a lot of unnecessary suffering. But it doesn't have to be that way!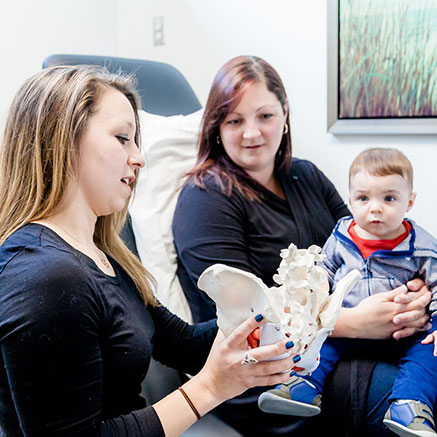 Our Pelvic Physiotherapy Services are also available at our Nepean Clinic.
Pelvic Health At Motion Works 
We want you to feel comfortable and at ease when talking about your pelvic health. There's no need to feel embarrassed; we're here to help!
The Pelvic Physiotherapist at Motion Works Physiotherapy is specially trained to provide internal assessment and pelvic treatment services.
We offer pelvic physiotherapy services in a relaxing, private treatment room, completely non-intimidating environment, and go to great lengths to ensure that each patient feels safe, comfortable and fully informed about her condition and related treatment. 
Please feel free to peruse the resources listed here, to learn about the myriad of conditions of and related to the pelvic floor, your treatment options, and what to expect when you visit our clinic.
---
At Motion Works Physiotherapy Orleans, our Pelvic physiotherapist provides assessment and treatment for a wide range of pelvic conditions. » More
Our physiotherapists can help new mothers prevent and manage prenatal and postpartum hip, back and pelvis pain, as well as incontinence issues, with a variety of treatment options. » More
Pelvic floor dysfunction and conditions related to it are extremely common, but many people feel too embarrassed to seek help. The Pelvic Physiotherapist at our Orleans clinic can help you recover pelvic function and comfort. » More
Have questions about your treatment options? Wondering what to expect from pelvic physiotherapy? Read through our FAQs for answers to the questions we're asked most often! » More
Ready to get started on the path to better mobility and a healthier lifestyle?
Contact Motion Works Physiotherapy Orleans today.