At Motion Works Physiotherapy in Orleans, our Pelvic Physiotherapist provides assessment and treatment for a wide range of pelvic conditions.
---
THIS SERVICES ALSO AVAILABLE AT OUR SISTER LOCATIONS:   Nepean (Women) • Manotick (Women, Men, Children)
---
What is Pelvic Physiotherapy?
Pelvic health physiotherapy is the assessment and treatment of a range of conditions related to the pelvic floor, or symptoms that manifest themselves in that area. Pelvic Floor (Pelvic Health) Physiotherapists have specialized postgraduate training that includes using internal and external "hands-on" or manual techniques to evaluate the function of the pelvic floor muscles.
---
Your First Appointment
Consultation
Your physiotherapist will start by collecting a detailed history of your symptoms. She will then ask about the many other potential symptoms that can go with pelvic floor dysfunction, such as sexual function, bladder, bowel, low back, hip and tailbone symptoms.
These questions may seem very personal and unrelated, but if there are problems in any of these areas, they are often related to pelvic floor dysfunction.
Your Pelvic Physiotherapist may also ask you to fill out a questionnaires, which will give her a better idea of what is contributing to your specific symptoms.
Assessment
Next, your Pelvic Physiotherapist will begin a series of physical assessments. These may vary depending on your symptoms, and may not all be completed on the first visit. 
She may assess your low back, SI joints, connective tissue of the abdomen and thighs, and your pelvic floor itself.
A pelvic floor assessment is an internal exam looking for trigger points in the pelvic floor, and assessing the strength of the pelvic floor.
Treatment & Results
Once your Pelvic Physiotherapist has completed the exam, she will explain her findings to you. She will give you exercises or other "homework" to do, and explain how often you should return for treatment.
She will explain what changes you should expect to see, and how long you should expect your treatment to take. She will give you time to ask questions.
---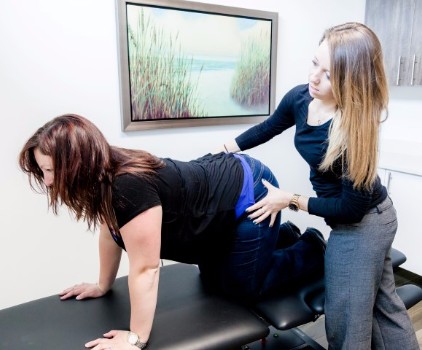 Ready to get started on the path to better mobility and a healthier lifestyle?
Contact Motion Works Physiotherapy Orleans today.